From collecting unemployment benefits to doing some serious self-reflection, there are countless ways to spend your time while you are unemployed.
If you're experiencing temporary unemployment, you might be looking for ways to improve your situation and come out stronger than ever. Getting unemployment insurance – or UI benefits – can help provide you with the necessary cash flow to afford your bill payments and living expenses. But these benefits are not permanent and are not meant to completely replace your income. Thus, it's essential for you to have a strategy in place. Here are 8 ways to spend your temporary unemployment to help figure out the next steps in your career.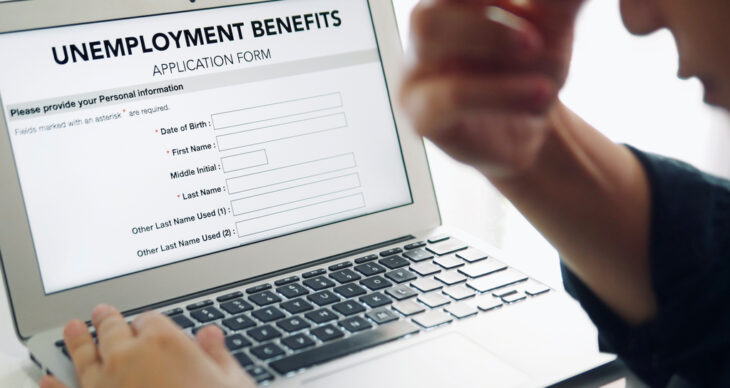 Each state pays UI benefits – sometimes called UC benefits or EDD unemployment benefits in California – to qualified unemployed workers. Collecting unemployment is one way to help ease the financial strain of getting laid off.
To qualify for EDD unemployment benefits or other state UI, you generally must meet the criteria for getting separated from work. 
The unemployment qualifications in most states allow you to start collecting benefits if you become separated from your job through no fault of your own. This could be during a period of layoffs, furloughs or reduced hours.
In most cases, you cannot receive UI benefits if any of the following are true:
You quit voluntarily.
You were fired for misconduct.
You do not plan to look for another job.
When you start collecting unemployment, it's important to have a financial strategy in place to make the most out of this temporary assistance. Most states only allow you to receive a certain amount of benefits, known as a maximum benefit amount.
Therefore, you should analyze your finances, create a budget and use the money for the most important expenses (such as rent, mortgage payments, car payments and student loans).
In addition to receiving UC benefits, you may consider finding other ways to earn some extra income while you are unemployed. Freelance work refers to any type of job you perform for yourself rather than for a company.
During your temporary unemployment, you may have extra free time to take up a hobby or perfect a new skill. You can find freelance work in a variety of industries. Some of the most popular freelance jobs include the following:
Photography

Copywriting

Web design

Programming

Graphic design
If you're experiencing reduced hours, unemployment or a furlough, you may consider hitting the books to get a new degree. If you have solid time management skills, you can file for UI benefits each week by completing your state's work search requirements AND still have time to go back to school.
Getting a degree during your temporary unemployment could set you up for an even better job down the road. Whether you're looking to advance your skills within your current industry or make a complete 180-degree turn to a new one, going back to school can help you land a high-powered career with a better salary.
4
Complete an online certificate program
UI benefits are meant to supplement your income. But if you have a hefty savings account and a desire to bolster your career skills, why not spend some of the money on earning a new certificate?
If you're collecting unemployment and plan to reenter your job field, you could benefit from earning a certification in one or more areas of your career industry. You can find online certificate programs in nearly any skillset. Some of the most popular online certificates include the following:
Digital marketing

Financial markets

Customer service

Artificial intelligence (AI)

Programming

Cloud computing
Some of these certificate programs are offered free of charge. You can find them on many online learning websites, such as Coursera, Skillshare, Alison and Udemy.
You can't receive UC benefits forever, so you might as well start preparing for your next step. When was the last time you looked at your resume? During your temporary unemployment, spend some time reviewing your resume and online career profiles. You may find outdated information or errors that need fixing.
Resume trends change quickly. What was once standard may no longer be widely accepted by hiring managers. If you have a LinkedIn account, you may benefit from revamping your profile with fresh photos and new posts. The more active you are online, the higher your chance of being contacted for a potential new position.
Collecting unemployment helps you make ends meet. Depending on the state of your finances, however, you could view it as extra cash to pursue a job you always wanted to try. Gig work, like freelancing, is not the same as full-time employment. It is temporary work that you perform for a predetermined amount of money.
During your temporary unemployment, you may find more time to fine-tune a hobby of yours. Any of the following jobs can be considered gig work:
DJing
Bartending
Rideshare driving
Serving as a handyman
Pet sitting
Babysitting
Most states have unemployment qualifications regarding work search activities. Why not take this time to grow your professional network? Networking is one of the most important aspects of climbing up the corporate ladder. Even if your job exists outside of the corporate world, having a network of professionals to rely on can lead to your next job.
If you don't already have a LinkedIn account, you might consider creating one. It is a social media channel designed for the professional world and is one of the easiest ways to network in your industry.
Whether you're experiencing reduced hours, unemployment or are being furloughed, you may have more time on your hands. Put it to good use by volunteering for one or more events. Not only will you have socialization opportunities, but you could even meet professionals in your industry who can refer you to a job opening. Volunteering also looks stellar on any job application.