Whether you have a work from home customer service job or work remotely as a creative, you can take full advantage of your freedom while staying on task. You can set yourself up for success by making alterations to your workspace and how you do your job.
Setting up a home office for remote work is essential. Although it is tempting to bring your laptop into bed, a specific location to do your job will help you keep work and home life separate.
4
Maximizing Remote Working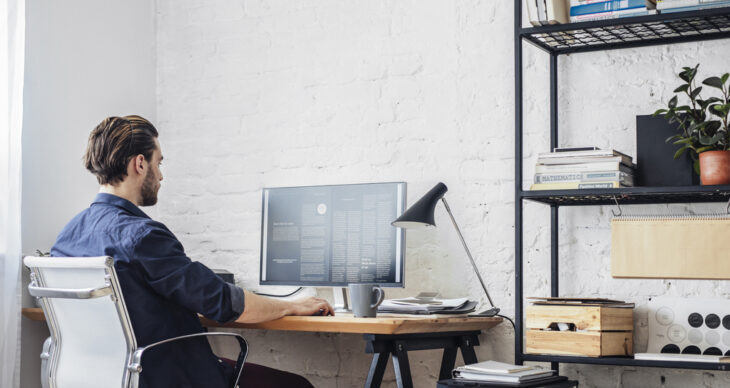 You can set up a desk in a spare room or the corner of your living room. The end of your dining room table could also work if you are short on space. A designated work area can mentally prepare you for the workday. It can also indicate to your family members that you are in work mode and should limit interruptions.
You may be able to deduct home office equipment and supplies from your taxes if you are an independent contractor or freelancer. You may also deduct a portion of your rent, mortgage, and utility bills. Keep copies of your receipts for when it is time to file your tax return.
Other ideas to help you focus and illustrate to the ones you share a home with include:
Putting on a 'work hat' so kids have a visual cue.
Using a room divider to separate your workspace from the rest of your home.
Hiring a part-time babysitter to manage children during meetings.
Taking advantage of nap times or favorite television shows.
Putting pets in separate rooms.
Setting clear rules and boundaries during working hours.
Create a morning routine similar to if you were going to an office, such as eating breakfast, showering, and getting dressed. A routine can help you transition to work mode. Similarly, try to maintain consistent and regular hours.
Likewise, make sure you take breaks away from the computer. An hour for a meal and two 15-minute breaks are typically for most office workers. Additionally, rest your eyes by not looking at a screen during your breaks. Consider taking a walk, reading a book, or meditating.
End your day with a routine to help you "power down" from work as well. Sign off from work applications, say 'Good evening; I'll talk to you tomorrow" to your coworkers, or pack up your makeshift office. Stick to your scheduled hours and do not look at emails until the next day.
Remote work is not possible for all professions, such as construction, education, and the medical field. Check out the best jobs to do from home next.
By Admin –